CORNHOLE
---
DATE:  Saturday, April 28, 2018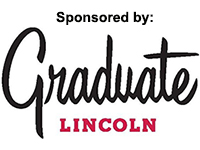 SITE:  Graduate Hotels - Lincoln, Scarlett Ballroom, 141 N. 9th St. (View Map)

TIME:  4 p.m.

DETAILS:
Companies form FOUR teams of 2 people (men/women) and number each team 1‐4

Draw for seeding in a 16‐team, two‐way bracket competition

American Cornhole Association Rules

Matches consist of 4 games. Winner determined by:
1. Games won
2. Point Differential
3. Sudden Death Corn‐off
RULES:
Scoring; In the hole = 3 points, On the board = 1 point, cancellation scoring will be used. (Points from opposite players/teams will cancel each other out.)

There will be a coin flip to decide who will throw in the first round, then the team that scores in the previous round will throw first.

First Team to 21 wins.

Players feet must remain behind the front of the board upon the release of the bag.

Bags cannot hit the ground first and roll onto the board. These bags will not count as points.

Teammates must stand at opposite boards. Players may throw from either side of the board. You must throw from the same position at the beginning of each inning. Each player will throw four bags each inning.

There will be a 25 minute time limit per match. Games will be played to 21. If match is not completed at the 25 minute time limit, the team that scored the most points at the end of the time limit will be designated the winner of that game.

Competition will be Doubles only. Teams MAY NOT rotate players between games.